Run your consulting business from your smartphone, tablet or PC on our revolutionary APP!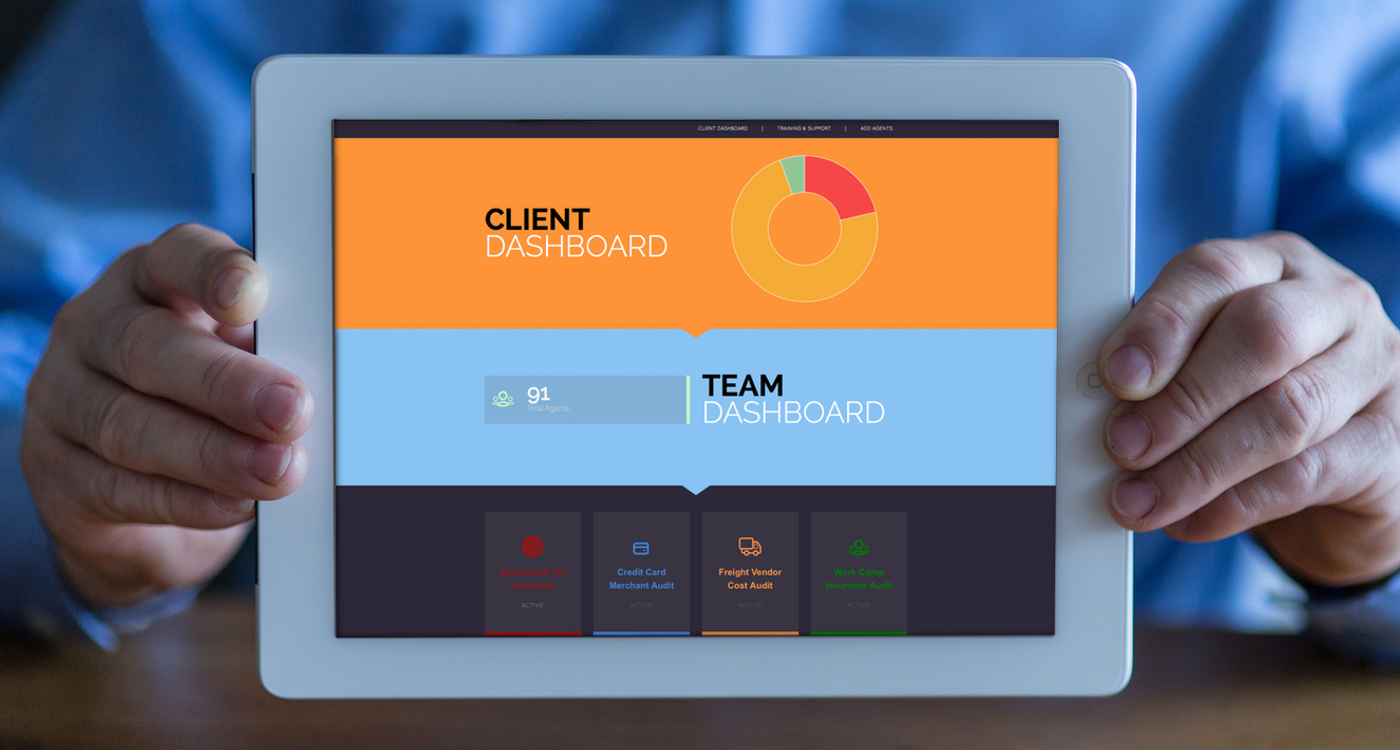 Introducing our revolutionary and proprietary app:
Pull up industry tab and show average savings for companies just like them
Run a savings analysis in 3 minutes with your client.
Book a discovery call with your national account manager.
Shows a total savings analysis to your client for which they qualify.
Sends documents to you and your client
Tracks your deals and much more.
Revolutionary BSA Tool for your desktop computer:
The BSA Tool, or Business Savings Assessment Tool, is the cornerstone of your client presentation. Our BSA Tool is a state of the art business tool that has revolutionized the way we do business! While, the BSA tool helps prospects instantly understand the tremendous opportunity to save money in various aspects of their business, it also is a business management tool for our consultants.
Create a Compelling Business Case
Define the "Business Reason to Buy" in real-time with a dynamic "Decision Engine" that creates value snapshots on the fly.
The interactive interview guide based on a natural conversion flow converts answers provided by prospects…into the direct benefit they will see for each of your services.
With your BSA Toolkit you can dynamically showcase…
Your credibility with companies using each service
Money saved to-date for each service
Which services apply to your client
Target savings range for the client
Recurring versus 1-time project savings
Tracking of client savings captured to-date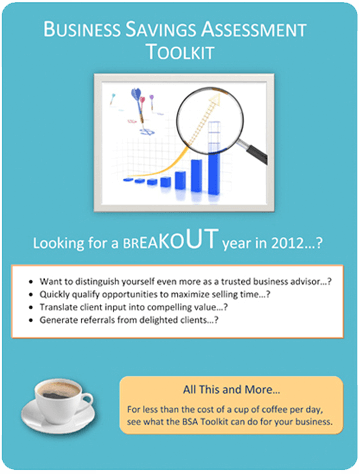 Your BSA Toolkit includes a front-end business website.
Your front-end business website is designed to serve as your online business card for clients and prospects that want to confirm that you have a web identity. Your site will be set up and configured with your business logo and contact information.
A "Share this page" link will enable you to auto-generate a secure code for any of your 4 core landing pages that you can share with clients and prospects. When they use this link they will automatically be granted access to your core landing pages which provide a snapshot of your focus, the markets you serve, your 3-step fast-track engagement process and a web contact form to facilitate client referrals directly to you.
You will also get a secure login that gives you access to the Business Savings Assessment Analysis software and your master agent back-end Resource Center.
The Business Savings Assessment tool (BSA) guides you and your client through the consultation process and shows the customers all of the potential savings. Our guided "consultant-selling" system provides a structure to capture general information about the prospect's company and identify all of the various money-saving areas to explore. All you do is ask questions. Once completed, you and Blue Coast can provide detailed numbers that in many cases show substantial savings. Instantly the client can view the 2 or 3-year savings they'd receive by working with us. At that point in the presentation it becomes much easier to continue the conversation and move the prospect closer to becoming a client.
The tool is also a CRM, Customer Relationship Manager, where you keep the information about all your clients in one place. Keeping  information up-to-date and available at any time to our Advisors is critical to the success of this online-based business model. The Blue Coast BSA Tool has been customized specifically to help our Savings Consultants maximize and manage business, 24/7.
This tool creates an immediate online presence by providing you with a professional business website. The website allows your prospects to get more information, and acts as a lead and appointment source you.
The BSA is also where our Auditors, Engineers and Project Managers all communicate with you. Using the revolutionary Blue Coast Savings BSA you will always know the current status and progress of your clients at the click of a button.