Blue Coast takes pride in providing its Business Owners with outstanding support and training.
Imagine a technique and service you could not find anywhere else that could get you past the company "gatekeeper" for you to connect with the decision-maker every time. What if it was a service practically every business owner in the country would not only want, but need?
No need to imagine…it's Blue Coast.
That technique along with many others is the reason why Blue Coast Savings Consultants dominate their professional space across America, beginning with an affinity for doing things the best way; for your clients and our Advisors. For our Advisors, Blue Coast delivers the finest business opportunity in the country. Position yourself with a seasoned company that only wins when you and your client do.
As the premiere company offering business savings consulting, Blue Coast takes pride in providing its Business Owners with outstanding support and training. It's a process that begins with training and mentoring…it continues with marketing…and then finishes with a support system of National Account Managers to help you engage clients and manage your business.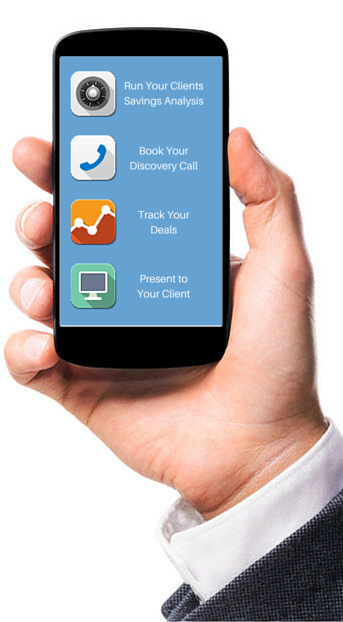 Run Your Consulting Business
on Your Phone
Blue Coast is a total marketing program, seamlessly integrated into our business model, which includes:
A dedicated professional website for your business.
"Real world" training, with access to coaching and advisors.
Third party lead generation tools and services
Services that are on every business's P&L
Available high quality collateral materials to promote your business
Targeted direct mail
Available pre-set client appointments (third party)
Great referral business
Dedicated administrative support
Multiple marketing venues and income streams
LinkedIn marketing program
A proprietary analysis and presentation application for your smart-phone or tablet
You build the business relationships and your new consulting team helps handle the "heavy lifting". The ultimate team approach. You're in business for yourself but not by yourself.
This is a complete business, there is no cold calling required.
Marketing options include:
Pre-set face to face appointments with decision-makers (by third party providers)
Our proprietary "My Marketing Assistant" program which generates you new businesses to see every week.
Targeted direct mail pieces which are designed for client engagement.
Upon completion of your initial training, we will customize a business plan to help achieve your income goals and specify marketing to help attain those goals.
It's true but there are some people out there that want to do all the work themselves. We have found them not as successful as those that are willing to let us carry some of the work load. The key to your success will be relationship building. Can you create and build relationships that will keep customers long term? If you can we may be a good match. We're looking for a Great Partnership:  Business Owners who we want to work with for a long period of time and who want to work with us for a long time.  Our multiple services and new products make long-term relationships a natural fit.