Wireless Billing Audits for Corporations
Every wonder what you are really paying for on your corporate wireless bill? Become a Blue Coast Advisor and help companies save money on their bills.
You'll find data charges, overcharges, usage charges, but, what does it all mean? In fact, a recent study by Bill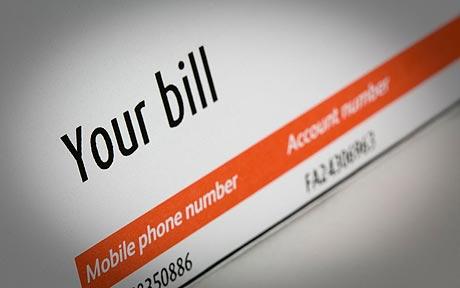 Shrink, suggests that 80% of cell phone users are overpaying. Imagine how many companies front the bill for multiple cell phone lines, tablets, Wi-Fi access all for regular business operations. That sounds like a golden business opportunity. We've helped a national contractor that typically received a monthly wireless bill over 1,500 pages long save more than 20% on the monthly bill! Wireless companies are regularly offering up new monthly plans and business bundles. Most businesses do not have the resources or knowledge to identify which plan is best, identify errors with the current plan, and make the necessary changes.
Well, at Blue Coast Savings we have a program designed to help save companies money with a Wireless Billing Audit.  And we're always looking for Advisors who want to make money showing companies how to save money using programs just like this Wireless Billing Audit.
What is a Wireless Billing Audit?
A Wireless Billing Audit is a complete review of a client's monthly wireless bill(s), from any major provider, to ensure the business is paying the appropriate amount for the services provided. This includes reviewing the monthly plan, data usage, ancillary services such as text, and overage charges.   Our third party partner careful combs through each bill to identify potential cost savings opportunities. Many times, companies are continually paying overage charges, when, they could simply upgrade to monthly package that allows for more minutes and/or data usage for a minimal monthly increase in payment. Blue Coast has pre-negotiated a contractor with this vendor to allow our consultants to offer this program at an unbeatable rate.
This audit itself is a tremendous business opportunity, but at Blue Coast, we offer even more incredible cost savings programs. Check them out here.
Why don't wireless companies offer help?
To most major providers, each account is just another dollar. Many contracts are structured in a way that even if you wanted to change providers you'd be billed for excessive early cancellation fees. Think about it, what incentive do they have to bring monthly overages or hidden fees to your attention? Again, most companies do not review these monthly statements and just pay the bill. That's more revenue in the pocket of the service provider.
Who Qualifies for a Wireless Billing Audit?
The only requirement need for a company to qualify for a Wireless Billing Audit is to currently spend at least $1,000 on month on cell phone service. This program is not designed to make you change carriers, it simply reviews the current plan and offers cost savings solutions. On average, our clients save 25% on monthly wireless expenses moving forward.
EXAMPLE – A local plumbing contractor was spending over $5,000 per month to provide cell phones for each field technician. Since completing the audit, our service is saving them over 60%!
Blue Coast Savings Consultants is the industry leader, helping companies save money for over a decade. Our consultants are equipped with an industry-exclusive tool, the Business Savings Assessment Tool. You can read more about the BSA here. Blue Coast also stands by is cost savings programs, they either find savings or there is no fee. Unlike other franchises or start-ups, Savings Consulting is a business opportunity that can thrive in any economy. As long as businesses have expenses, a savings consultant can earn a living.
If you are starting a business as a consultant or looking for a business opportunity, consider Savings Consulting. Blue Coast Savings Consultant offer a turn-key business opportunity much like that of a franchise except that there are no ongoing royalties to be paid and there is a low initial licensing fee. Our programs pay upfront and in residual income. You can choose from multiple streams of income opportunities to market. Learn more about what's included and the investment required when you become a Blue Coast Savings Consultant.
At Blue Coast we also have proven marketing strategies and numerous tools and programs to help you succeed as a Business Savings Consultant. View our webinar to learn more.