Business Consulting – Customer Confidence and How to Keep It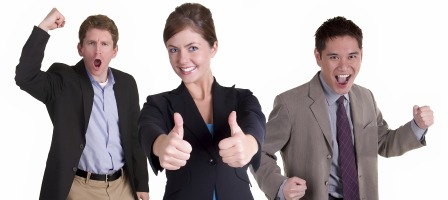 As business consultants we are always looking for ways to boost customer confidence in what we offer because we know that a company's reputation is as good as its customer service.
Please a customer and relatives and neighbors will hear of the company's top-notch agents, but ignore a customer's concerns and prepare for disaster. Though a depressed economy may tempt companies to cut back, service improvement is their best way to survive. Companies of any size should understand what their customers need and should conserve their resources without sacrificing essentials important to them.
Here are just a few ways to drastically change how your customers experience doing business with you:
Automated telephone response systems are okay for many calls, but companies should offer access to live representatives by making direct contact an initial option on a service menu. Personal contact makes customers feel reassured, particularly when they may be distraught. Healthcare company customers dealing with illnesses or medications feel no empathy from a website or a phone menu. Some companies pair customers with representatives who log every action into a database and cater service accordingly.
Companies should interact with customers in a welcoming way without aggression. Instruct retail employees to welcome and say hello to incoming shoppers throughout the store to make them feel at ease rather than under pressure. Offer service on the customer's terms.
Some companies flood mailboxes with brochures and catalogs that go directly to the trash. Use customer data to decide which catalog each household should have. Use as many media as possible—person to person at the store or office, TV, website, catalog—to maximize advertising outreach.
The website is often the customer's first contact with the company, so the homepage should be user-friendly with staff bios or a Facebook account to build personal relationships with customers. Consider social media as listening posts and tune in when customers chat about recent purchases and experiences.
Online reviews can be cruel, but explore sites like Yelp and CitySearch for customer feedback and take advantage of the opportunity to respond to customers in a two-way dialogue for problem prevention and customer retention.
For some products an in-person exchange is necessary for a return or repair, so companies should make their addresses, hours, and phone numbers easily available. To send customers on a quest through drop-down menus and Frequently Asked Question listings is inexcusable when a prominent direct line to a company employee is what they need.
Customers deserve a channel to tell the company how they feel. Offer exit surveys for users to describe their visits to the company website. Feedback from online shoppers who decide not to buy is especially helpful to retail companies.
Customer communications are always important, but in the end the most important factor for success is the quality of the company's product or service. Employees need to know what standard of performance is necessary to the company mission and when work product is substandard.
A court reporting company that transcribed legal proceedings stated its business mission as "There is no substitute for quality," and the company owner always told customers "We'll do a good job for you." The owner realized that accuracy was most important to his customers so he put his policy statement in his employee handbook.
He insisted that his editors and proofreaders actually listen to the speakers word for word as much as possible because he knew that the best stenographers and transcribers were often inaccurate and that their errors, even when not significant, were bad for business. He found that the law firms, government agencies, and business associations that comprised his customer base were willing to pay premium rates for high quality and his business was truly busy and successful for several years until new management decided to pursue production rather than quality, abandoned the handbook policy, and lost customers steadily until ultimately the company lost its downtown office by eviction for failure to pay rent.
At Blue Coast Savings Consultants our business consulting partners and clients are especially important to us and we work hard to provide what you need when you need it, so that we can all be successful.
If you are looking to start a new business this year we hope you will consider becoming a Blue Coast Savings Consultant. We offer a turn-key business opportunity much like that of a franchise except that there are no ongoing royalties to be paid and there is a low initial licensing fee. Learn more about what's included and the investment required when you become a Blue Coast Savings Consultant.
At Blue Coast we also have proven marketing strategies and numerous tools and programs to help you succeed as a Business Savings Consultant. Watch our webinar to learn more.